From 5 to 6 December 2019 the workshop 'The Politics of Privacy' will take place at the Johannes Gutenberg University Mainz under the umbrella of the ECREA Communication and Democracy section.
On Thursday, 5 December, we will start at 4 p.m. with a fishbowl debate. Privacy lawyer Simon Assion discusses political dimensions of privacy with our keynote speakers Caroline Krohn and Sami Coll. Feel invited to join the debate in the INFOBOX on the campus of the University of Mainz.
A workshop for registered participants will follow on Friday 6 December with contributions by Caroline Krohn, Sami Coll, Heikki Heikkilä, Łukasz Wojtkowski, Barbara Brodzińska-Mirowska, Aleksandra Seklecka, Karoline Burno-Kaliszuk, Grażyna Stachyra, Sarah Young, Leyla Dogruel, Tetyana Lokot, Philipp Masur and Víctor Hernández-Santaolalla.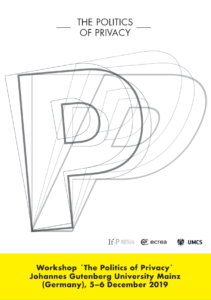 The full programme is available here. Further Informationen can be found on the workshop's homepage.